Synapse Audio DUNE2 v2.6.0 [WiN, MacOSX]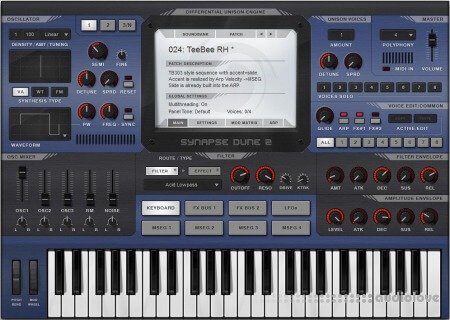 Team R2R | 01 January 2020 | WiN: 84 MB | MAC: 117 MB
DUNE 2 was rewritten from scratch, in order to provide a yet higher sound quality and allow for an even wider range of sounds. New oscillators, new filters, new effects and graphical envelopes are just some of the new additions.
With a maximum reserve of 8320 oscillators at full polyphony, DUNE 2 is a true unison monster, unlikely to ever run out of oscillators.
DUNE 2 is available as VST/AU/AAX plugin for Windows and Mac OS X. The VST/AU version comes in both 32- and 64-bit versions, the ProTools version is 64-bit only.
DUNE 2 features summary:
VA, Wavetable and FM Synthesis
Two oscillator stacks with 32 oscillators each
Third oscillator and noise generator
8x Unison = up to 520 oscillators per note!
16 voices of polyphony = up to 8320 oscillators total
Full version comes with 500 patches
Zero-delay feedback filters
Four graphical envelopes (MSEG)
Three low-frequency oscillators (LFO)
Modulation matrix for synth and FX parameters
Two Master FX busses with 9 high-quality effects each
Innovative Arpeggiator with MIDI file import
Team R2R Note:
(v2.6.0)
HAPPY NEW YEAR!!!

OSX v2.6.0 R2 : Updated in Oct 2019

Every rencet Synapse Audio product has different protection and you need to
disassemble them one by one. No problem, we did it :)

SYNAPSE-VM : Virtual Machine which runs custom byte code. To make keygen,
you need to understand how the VM works and need to decompile the byte codes.
This is implemented in DUNE2, DUNE3, TheLegend. This VM is used for content
decryption. Without running VM correctly, app does not work correctly. (For
your interests : VR bypassed this VM and put pre-decrypted content generated
by legit serial number). We coded SYNAPSE-VM emulation and code decryption
support tools to make valid kegen!

You also need to decompile the PASCAL script and understand the serial
checksum validation part integrated into Inno installer.
home page
Only registered users can see Download Links. Please
or login.