VSL Vienna Ensemble Pro 6 v6.0.17011 CE / v6.0.18504 Master Only [WiN, MacOSX]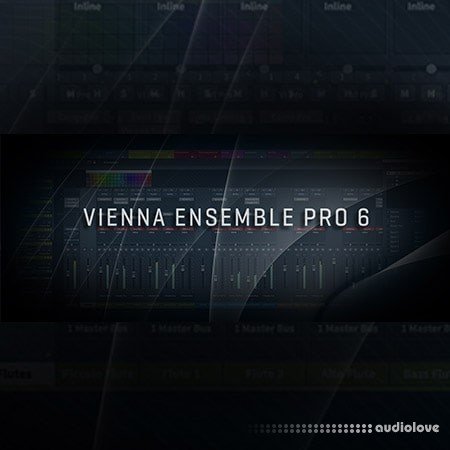 WN: Team V.R | 07 November 2018 | 58.9 MB
MAC: P2P | 29 December 2019 | 132 MB
Vienna Ensemble Pro 6 has become the definitive cross-platform network solution in studios and production facilities around the world. This mixing and hosting application enables you to set up a multiple computer network with both Macs and PCs without the need for extra MIDI and audio interfaces – all you need is a simple Ethernet cable! Even when you're using only one computer, Vienna Ensemble Pro improves your work-flow dramatically, with unique functions such as "Preserve" that keeps all your plug-ins and samples loaded while switching from one project to another – a huge time saver!
Of course Vienna Ensemble Pro supports Vienna Instruments, but you may also integrate all of your third-party 64-bit and 32-bit VST/AU instruments and effects plug-ins (such as Spectrasonics, Native Instruments, Waves, you name it) and mix them in stereo and surround (up to 7.1), with full parameter automation and optional one-click integration with Vienna MIR Pro. What's more, with the included Epic Orchestra Sample Pack you get a powerful all-in-one production tool to get you started right away!
Vienna Ensemble Pro 6 is the latest version and comes with a wealth of new features and performance improvements. Please find an overview of all the key features and versions under the Product Comparison menu.
New Features:
Retina (HiDPI) graphics support on both Mac and PCs
Tabbed instances – Improved organization with one common window for all instances, with detachable instances, re-ordering of instances, and tab-coloring for better identification
Frozen/Disabled channels allow unloading all plug-ins (including their allocated memory) from a selected channel, while keeping data intact
Intelligent auto-save functionality – Auto-saves project in desired intervals, but only when transport is stopped, so it doesn't interrupt a playing session. Easily recover projects in the event of a crash.
VCA folders let you organize your channels conveniently with folders and subfolders that are easy to color-code
VST hosting on the Mac, allowing for full compatibility with Windows
Channel grouping allows assigning channels to a group, with option to link selected parameters to the entire group
"Raise Instance" is now a Vienna Ensemble Pro plug-in parameter to enable automation/hardware controller assignment for quick instance access
"Auto Raise Instance" option raises the connected Vienna Ensemble Pro instance automatically when you show the Vienna Ensemble Pro plug-in
New code base for about 70% less CPU usage for all internal Vienna Ensemble Pro calculations
Rewritten user interface code resulting in 80% less CPU usage for graphics
Improved multi-threading performance for increased plug-in hosting capacity
Redesigned, resizable plug-in window and Audio/Event Input Plug-in
Faster connection/disconnection times when switching between projects
Unified channel model – No more need to create different channels for Vienna Instruments or 3rd party plug-ins. Every channel now has the capability to be a bus, audio input, plug-in channel, Vienna Instruments, Vienna Instruments Pro or Vienna Imperial channel. Drag & drop plug-ins to any channel.
In combination with Vienna MIR Pro: Impulse response files loading up to 5 times faster, improved graphical performance (especially under OS X).
Mixer Interface Customization allows turning on or off sections in the mixer to suit your needs
Transmission of all keys to host – Shortcuts not in use by Vienna Ensemble Pro will be transferred to a connected DAW
Miniature view – Channel strips can now be further collapsed
Faster plug-in scanning
Many more usability improvements throughout the application
home page
Only registered users can see Download Links. Please
or login.